Shape the future with us ...
Find out about the attractive career opportunities with HSM –for example as sales assistant advising and servicing our esteemed customers and selling state-of-the-art products which give pleasure.

Welcome to the team.

Stephan KOENIG wins the "Les Cognées 2017" wood-pulling competition on an HSM 904 ZL "Black Edition".
On the occasion of the tenth anniversary of "Les Cognées", the French association organised a much-awaited wood-pulling competition for machines on 24 and 25 June 2017. This type of competition is highly popular among skidder fans.
The event was started by a group of friends from Les Gets in the Rhône-Alpes region. They are all enthusiastic foresters and their aim is to bring the profession of wood-puller to the attention of the general public. What began as a small local festival ten years ago has since grown to become one of the best-known events in the country.
This year, 17 competitors were at the starting line, among them three HSM thick trunk timber machines. 30,000 visitors came from all over France and neighbouring countries to view this impressive spectacle.
Eric Martini, our long-standing customer and regular participant, landed this year in 5th place after climbing up to second place two years ago.
Congratulations to Eric on his great performance!
Alexis Deshayes from the BOIS DES ALPES SERVICES company managed to reach 4th place after winning third place two years ago.
Congratulations, Alexis!
But special recognition goes to the winner Stephan Koenig on his HSM 904 ZL "Black Edition".
What a magnificent effort! Well done! Long live the "KOENIG" (German for "king")!
We would like to express our thanks to all participants and organisers of "Les Cognées" for this fabulous weekend.
Our thanks also go to the "Menschtertal Team" which Stephan Koenig supported through his participation.

The meet takes place again in two years' time and we can't wait to defend our title again!
HSM congratulates Gratz Forst- und Landtechnik.
The employees and management at HSM congratulate the company on the opening of their new location and the first class HSM presentation at the "Open House Day".

HSM would like to thank Sebastian Gratz and his entire team for their excellent cooperation and the trust they have shown in HSM.
Let's Go Uphill!
HSM 208F 20 t with 2,5 m² clamping workbench and felling head Timbermax F70HD in operation in British-Columbia, Canada.
more videos ...
HSM Messevorschau
Find out on site about the latest HSM innovations and state-of-the-art technology that are a pleasure to use. Visit us on the HSM fair stand. On request you can receive detailed professional and competent advice covering your needs and requirements. We look forward to meeting you.

HSM at 17th KWF Conference 2016
We would like to express our sincere thanks for the great interest in our presentations and the very positive response.
Visitors to the world's largest event for forestry technology obtained information on the high-performance and general purpose forestry machines from HSM. They showed great interest in our products during the many interesting conversations which we conducted with numerous visitors on our stand.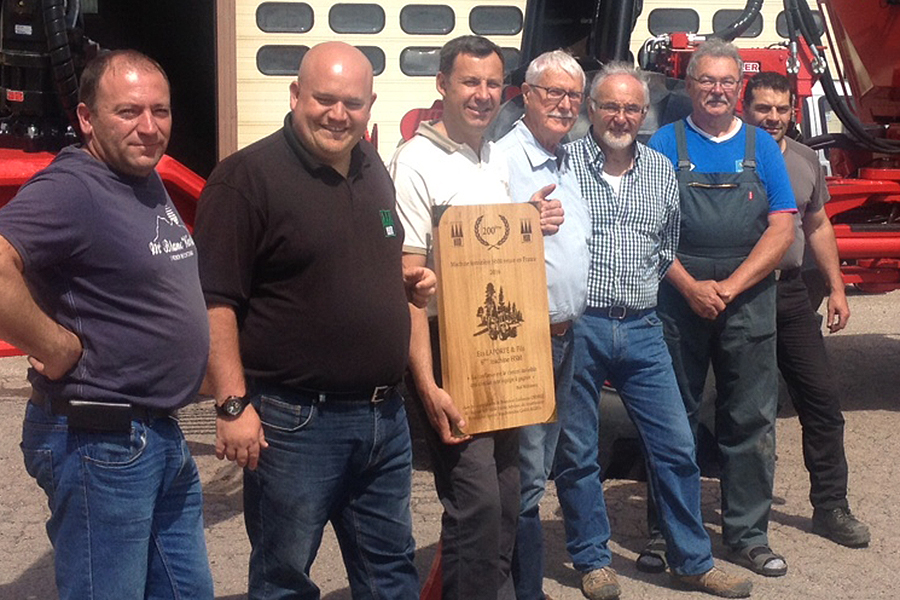 HSM delivers the 200th machine in France.
The HSM Team congratulates the company LAPORTE et Fils in the French Vosges mountains on their new machine. We can now celebrate the delivery of the 200th HSM forestry machine in France.
The family-owned company Laporte has been a loyal HSM customer for over 20 years. The HSM Team extends its sincere thanks for the first-class and very pleasant business relations and sends its very best wishes for the future, safe driving at all times and always "Technik die Freude macht".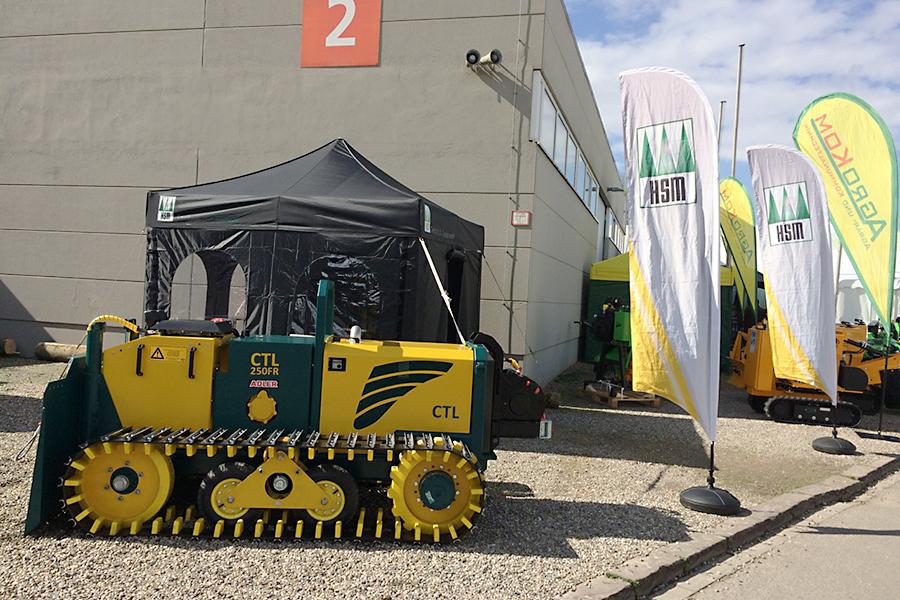 Forest Crawler goes into production
HSM presented the new Forest Crawler CTL 250FR at the FORST live exhibition in Offenburg. The professional Forest Crawler is based on the "HFR 504 Plus" designed and built in Switzerland. Start of production will be at CTL Technology GmbH in Sehmtal at the beginning of May. Development will continue at the same time. The Forest Crawler can be transported on a car trailer as it is only 1700 mm wide and has a total weight of 2.5 t. The specially manufactured track mechanism with bogie pendel wheels guarantees excellent traction even in rough terrain. The low centre of gravity combined with the parallel rear plate (including height adjustable rope guides (250 mm)) ensure high stability even when carrying out demanding rope work, The Forest Crawler is therefore ideally suited for deployment on critical slopes and in areas which are hard to access. In addition the Forest Crawler can be equipped with an easily removable front traction winch which has synchronous power control and a tractive power of 0 to 2.3 t.
An efficient 37 kW/50 HP Yanmar 4-cyl. diesel engine supplies enough power to drive the rear ADLER EHY-5 winch which is driven hydraulically and proportionally (when winding/unwinding). Easily accessible service hatches, well designed stowage compartments and an integral battery changer ensure smooth operation. The rear plate and the hydraulic system are prepared to receive a hydraulic three-point add-on unit.
The Forest Crawler CTL 250FR is available directly from HSM or HSM dealers at a price of €86,000. CTL is also interested in finding new dealers who would like to include the Forest Crawler in their product portfolio.
Please direct your queries on the Forest Crawler to:
E-Mail: info@hsm-forest.com
Tel.: +49 (0) 7527 9608-120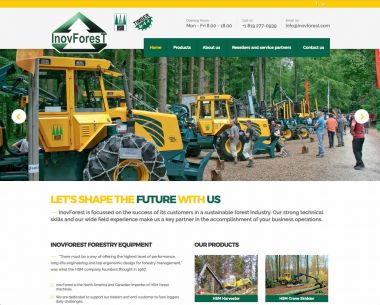 HSM is expanding its sales territory with a new location for North America and Canada.
The leading forestry machinery manufacturer in Central Europe has now become even more efficient for international customers and prospects. Your contact partner in North America and Canada for all questions relating to sales and service is Mr. Matthieu Lavoie, from InovForest.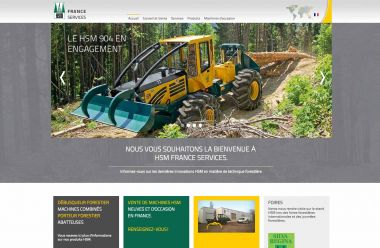 HSM France Services
Highly effective HSM service site with new presentation and extensive information platform on the internet.
In accordance with the latest requirements, HSM France offers its customers in France up-to-date information about the HSM service, service partners and sites as well as the comprehensive programme of innovative and high performance HSM forestry equipment.
Please make a note of the new internet address for HSM France Services.