HSM 405 H3 8WD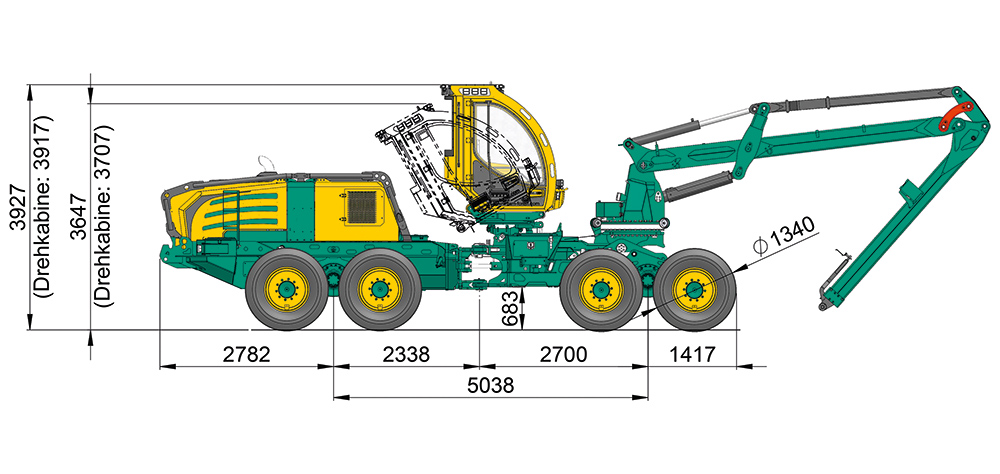 Thick trunk timber harvesting? Look no further than the HSM 405H3.
Development of the H3 had the aim of providing a harvester that is flexible and stable yet still agile. All technical components must be configured to ensure that high energy reserves are available for forest thinning operations with thick trunk timber or end use. Pure strength and stability for mechanised harvesting of thick trunk timber is what characterises the HSM 405H3.
Here are the basic technical details of our power pack:
engine 260kW / 1560Nm - hydraulics 536l/min at 1600rpm - steering angle 52° - Loglift L280 V110 crane with 280kNm lift torque - 195kNm pulling force. As an 8-wheeler or 6-wheeler with tilting comfort cab for ergonomic work and 800 sized tyres on balanced bogie axles, nothing stands in the way of efficient, environmentally-friendly operations in an optimised work environment. The HSM 405H3 is rounded off with harvester heads from Waratah or Logmax, which are designed for harvesting thick trunk timber.
The HSM 405H3 - at home with thick trunk timber.
Technical data 405H3 8WD
Engine (6 cylinder):
VOLVO PENTA
TAD882VE EU Stage V
Power: 210 kW (286 HP) from 1700 rpm
Max. revolution: 1225 Nm from 1100 - 1600 rpm
Max. torque 1255 Nm at 1400 rpm
Displacement: 7,7 liters

Optional:


VOLVO PENTA
TAD884VE EU Stage V
Power: 250 kW (340 HP) from 1800 rpm
Max. revolution: 1330 Nm from 1200 - 1800 rpm
Max. torque 1360 Nm at 1400 rpm
Displacement: 7,7 liters
Transmission:
Hydrostatic-mechanical
NAF 2-speed transfer gearbox
Axles:
NAF balanced portal tandem axles
Front: 100 % selectable differential lock
Rear: 100 % selectable differential lock
Brake:
2-circuit brake, disk brakes running in an oil bath
Spring-loaded parking brake
Steering:
Articulated steering with 2 cylinders
2 steering cylinders, 50° steering angle
Tyres:
| | Size: | Total width: |
| --- | --- | --- |
| Series: | 710/45-26,5 | 2880 mm tapes and chains |
| Optional: | 800/40-26,5 | 2980 mm only tapes |
| | | 3060 mm tapes and chains |
| | 600/55-26,5 | 2660 mm tapes and chains |
Tank capacity:
Diesel: 500 l
AdBlue: 45 l
Hydraulic oil: 250 l
Hydraulic system:
Load sensing
Variable pump (working pump) :
Crane pump: 190 cm3
Head pump: 190 cm3
flow rate: 532 l/min bei 1400 rpm
pressure: up to max. 380 bar
Hydraulic oil: saturated synthetic ester
Panolin HLP SYNTH with Kleenoil
Microfiltration; WGK 1
Cabin:
Height-adjustable at the front / rear +10° / -29°
Bent Lexan windscreen
Windscreen wipers in the front and at the side
ROPS, FOPS, OPS tested
Tested safety cab
Air cushiones seat with seat heating
Hot water heating
Auxiliary heating with cooling water and hydraulic oil preheating
Air conditioner
Optional height-adjustable and rotatable (270°),
front / rear +10° / -12°, (restricted to -24°) lateral +/- 9°
Optional: Sun blinds
Electrics / Instruments:
HSM Ecommand colour-display
5 operator programs + factory setting
Diagnosis-tool and error-indication
Graphic support at parameter editing
Generator 110 A (28 A)
2 service-free dry batteries á 75 Ah
Crane:
Mesera M280 V110
Range: 11 m
Lifting moment gross: 280 kNm
Slewing torque: 65 kNm
Slewing angle: 260°
Tilt angle: +24°/-30°
Other cranes on request
Aggregate:
Logmax 6000
Felling diameter: 650 mm
Delimbing diameter: 500 mm
Max. feed force: 26,9 kN
Max. feed force: 4,2 m/s
Max. operating pressure: 280 bar
Weight: 1.330 kg
Control: LOG Mate
Other aggregates on request
Standard equipment:
20 LED work lights on the cab, 4 work lights in front of the crane, 2 LED work lights on the crane column, 2 LED work lights on the rear frame, bogie lift front separately switchable, voltage converter on-board voltage 24 V to 12 V, end cushioning for crane and steering cylinder, radio, fire extinguisher, first-aid kit, warning triangle, tool set, bypass filter, Diesel fill pump, hydraulic fill pump, vacuum pump
Special equipment:
Crane tip control xyControl (Epsilon crane)
HSM Crane-list 405H
Crane M221 H100: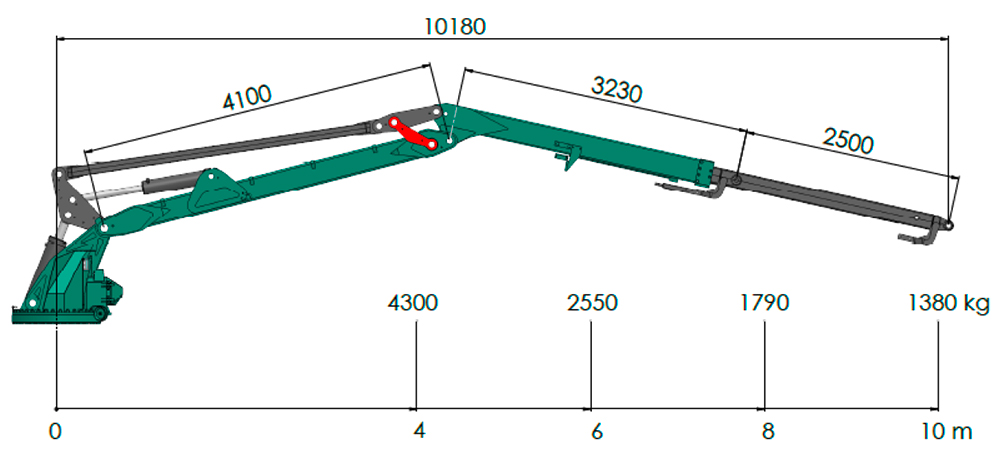 | | |
| --- | --- |
| Lifting moment gross | 188 kNm |
| Slewing torque | 43,6 kNm |
| Slewing angle | 260° |
Crane M240 H103:
| | |
| --- | --- |
| Lifting moment gross | 240 kNm |
| Slewing torque | 54 kNm |
| Slewing angle | 260° |
Crane M280 V110: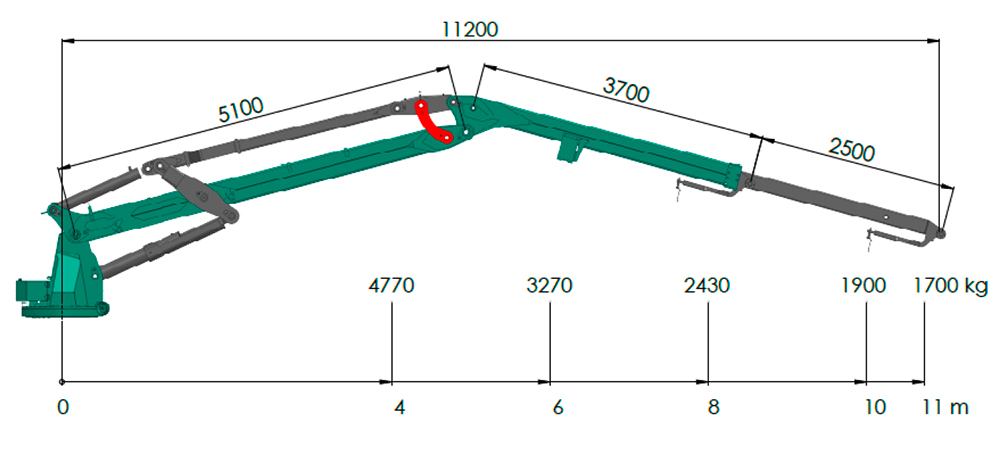 | | |
| --- | --- |
| Lifting moment gross | 280 kNm |
| Slewing torque | 65 kNm |
| Slewing angle | 260° |
Crane X270 H107: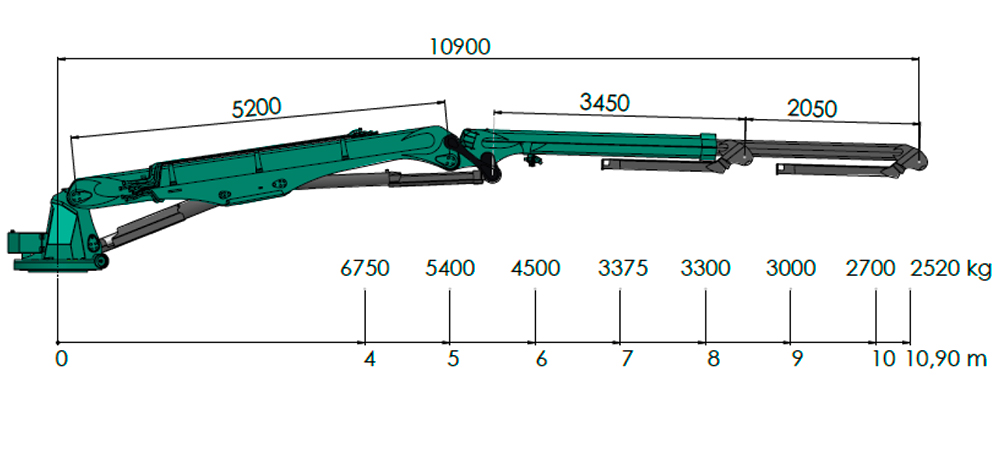 | | |
| --- | --- |
| Lifting moment net | 270 kNm |
| Slewing torque | 92 kNm |
| Slewing angle | 260° |
Crane HSM H4-15:

| | |
| --- | --- |
| Lifting moment gross | 380 kNm |
| Slewing torque | 80 kNm |
| Slewing angle | 260° |