HSM 904F Kombi short
Today, HSM has become synonymous with powerful forestry machines that protect the ground and harvested product through the consistent further development of the machinery. Protecting the ground means increasing manoeuvrability on skid trails. HSM is highly committed to this.
With the 904F Kombi short, HSM demonstrates that increasing manoeuvrability on skid trails is also possible for heavy and powerful machines. A well-conceived drive concept, wide tyres compatible with traction chains and flexible construction are decisive for the sustained use of forestry machinery. The success of our customers also relies on a forwarding quality that assures subsequent orders.
Providing support for this success still remains HSM's main objective.
Technical data model series 904
Engine (6 cylinder):
VOLVO PENTA
TAD881VE EU Stage V
Power: 185 kW (252 HP) from1600 rpm
Max. revolution: 1150 Nm from 1100 - 1500 rpm
Max. torque: 1175 Nm at 1400 rpm
Displacement: 7,7 liters

Optional:


VOLVO PENTA
TAD882VE EU Stage V
Power: 210 kW (286 HP) from 1700 rpm
Max. revolution: 1225 Nm from 1100 - 1600 rpm
Max. torque: 1255 Nm at 1400 rpm
Displacement: 7,7 liters
Transmission:
904H: HSM High Speed Drive (71 series);
speed at 1st gear 0-14 km/h

904ZF: ZF 6WG-190 load switching converter transmission
6 forward gears, 3 reverse gears
Axles:
Planetary axles
100 % separately selectable differential locks, front and rear
Brake:
2-circuit brake, disk brake running in an oil bath
Spring-loaded parking brake
Steering:
Articulated steering with 2 cylinders, 45° steering angle
Tank capacity:
| | 904H: | 904ZF: |
| --- | --- | --- |
| • Diesel: | 210 l | 225 l |
| • AdBlue: | 45 l | 45 l |
| • Hydraulic fluid: | 110 l | 150 l |
Hydraulic system:
Load sensing
Variable pump (working pump) 904H:
flow rate: 304 l/min at 1600 rpm
pressure: up to max. 350 bar
Variable pump (working pump) 904ZF:
flow rate: 224 l/min at 1600 rpm
pressure: up to max. 350 bar
Hydraulic oil: Saturated synthetic ester
Panolin HLP SYNTH with Kleenoil
Microfiltration; WGK 1
Cabin:
HSM Panorama comfort cab (see brochure page 12-13)
ROPS, FOPS, OPS tested safety cab
Swivel seat device, air-suspended comfort seat
Heating/air-conditioning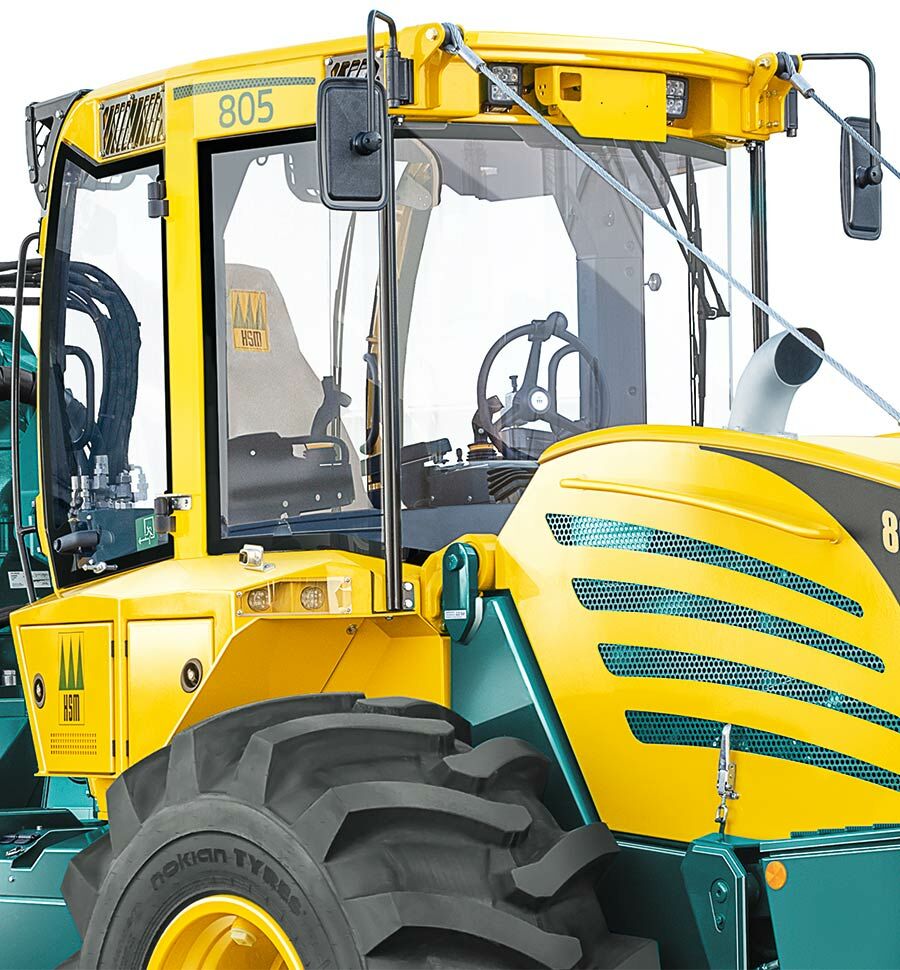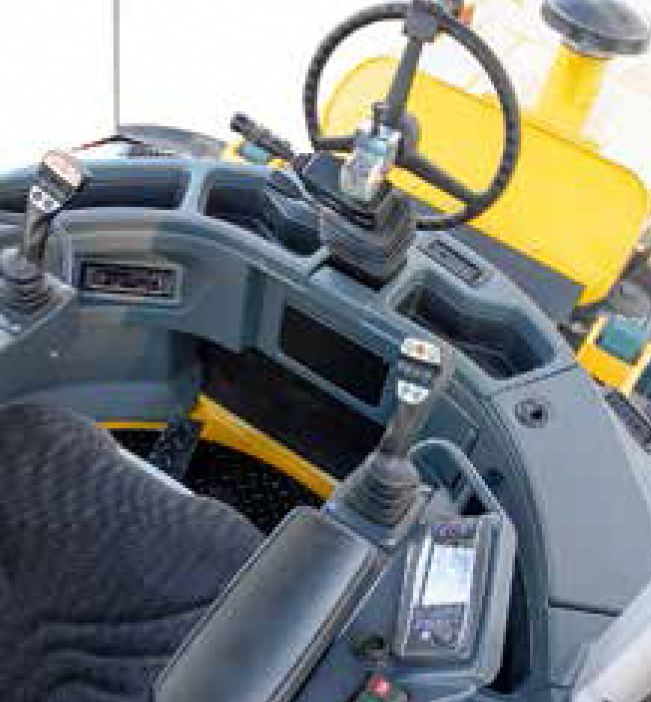 Electrics / Instruments:
HSM Ecommand colour-display
5 operator programs + factory setting
Diagnosis-tool and error-indication
Graphic support at parameter editing
Generator 110 A (28 V)
2 service-free dry batteries á 55 Ah
Special equipment:
Tiltable front polder shield, trailer hitch, outer hydraulic connection, remote control for cable winch, wireless driving, auxiliary heating, sun blinds, seat area dampers
Other accessories on request
Technical details 904F Kombi short
Winches:
Series:
Adler HY 20-SG (2 x 100 kN) double-drum winch
Max. cable take-up 14 mm, 100 m

Optional:
Adler HY 24-SG (2 x 120 kN) double-drum winch
Max. cable take-up 14 mm, 130 m
Adler HY 32-SG (2 x 160 kN) double-drum winch
Max. cable take-up 14 mm, 130 m
Crane:
Epsilon M70 F80 (series)
For further cranes see crane brochure
Tyres:
Standard
24,5-32
710/45-26,5

30,5-32
710/45-26,5
904H
Dv
1831
1857
Dh
1465
1485
B*
2430
2730
H
3769
3776
F
672
679
904ZF
H
3769
3776
F
545
552
* B: minimum machine width (dimensions in mm)
Standard equipment:
Headboard grid and first stanchion removable
Last stanchion can be removed and adjusted to 2,4 m, 3,2 m and 3,65 m
Height-adjustable roller block
Torsion lock with hydraulic cylinder
Reversing camera with color monitor
LED rear headlights
Special equipment:
Front polder shield
Straight shield
Clamping workbench with quick-change plate
Twin stanchions as 2nd and 3rd stanchion on quick-change plate
Rotating stanchion
Bogie lift at the rear
Tiltable crane
Remote control, wireless driving
Other accessories on request
HSM Crane-lists
HSM Crane-list EPSILON
X = available with surcharge, O = standard equipment, # = not available
EPSILON
Crane type
Lifting
moment
Range
Gripper
type
904F / Kombi
M70 F80
102/68 kNm
8,0 m
FG43S
O
M70 F86
102/68 kNm
8,6 m
FG43S
X
M70 F101
102/65 kNm
10,1 m
FG43S
X
M80 F80
114/79 kNm
8,0 m
FG43S
X
M80 F86
114/79 kNm
8,6 m
FG43S
X
M80 F101
114/75 kNm
10,1 m
FG43S
X
S100 F80
128/91 kNm
8,0 m
FG43S
X
S100 F86
128/90 kNm
8,6 m
FG43S
X
S100 F101
128/86 kNm
10,1 m
FG43S
X
S110 F80
143/104 kNm
8,0 m
FG43S
X
S110 F86
143/104 kNm
8,6 m
FG43S
X
S110 F101
143/100 kNm
10,1 m
FG43S
X
X120 F80
159/111 kNm
8,0 m
FG43S
X
X120 F86
159/110 kNm
8,6 m
FG43S
X
X120 F102
159/107 kNm
10,2 m
FG43S
X
X140 F80
173/123 kNm
8,0 m
FG43S
X
X140 F86
173/122 kNm
8,6 m
FG43S
X
X140 F102
173/119 kNm
10,2 m
FG43S
X
Low crane pillar (height: 1730 mm)
HSM Crane-list Mesera
X = available with surcharge, O = standard equipment, # = not available
Mesera
Crane type
Lifting
moment
Range
Gripper
type
904F / Kombi
F71 F72
99/75 kNm
7,2 m
FG43S
X
F71 FT85
99/70 kNm
8,5 m
FG43S
X
F71 FT100
99/66 kNm
10,0 m
FG43S
X
F71 FT100i
99/66 kNm
10,0 m
FG43S
X
F83 F72
106/82 kNm
7,2 m
FG43S
X
F83 FT85
106/76 kNm
8,5 m
FG43S
X
F83 FT100i
106/73 kNm
10,0 m
FG43S
X
M 92 F80i
130/84 kNm
8,0 m
FG43S
X
M 92 FT86i
130/84 kNm
8,6 m
FG43S
X
M 92 FT100i
130/84 kNm
10,0 m
FG43S
X
F111 F72
151/111 kNm
7,2 m
FG43S
X
F111 F85
151/100 kNm
8,5 m
FG43S
X
F111 FT85
151/100 kNm
8,5 m
FG43S
X
F111 FT91
151/98 kNm
9,1 m
FG43S
X
F111 FT100
151/101 kNm
10,0 m
FG43S
X
M122 F85i
155/110 kNm
8,5 m
FG43S
X
M122 F96i
155/ - kNm
9,6 m
FG43S
X
M122 FT100i
155/ - kNm
10,0 m
FG43S
X
M142 F85i
178/132 kNm
8,5 m
FG43S
X
M142 F96i
178/124 kNm
9,6 m
FG43S
X
M142 FT100i
178/ - kNm
10,0 m
FG43S
X
The variable rear
The variable rear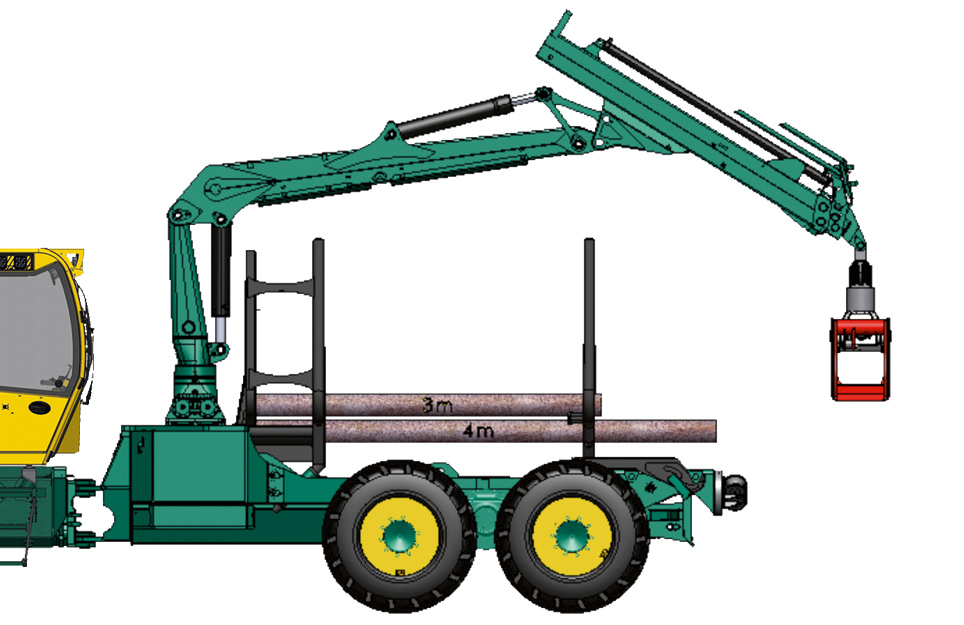 Last stanchion variable in "short" position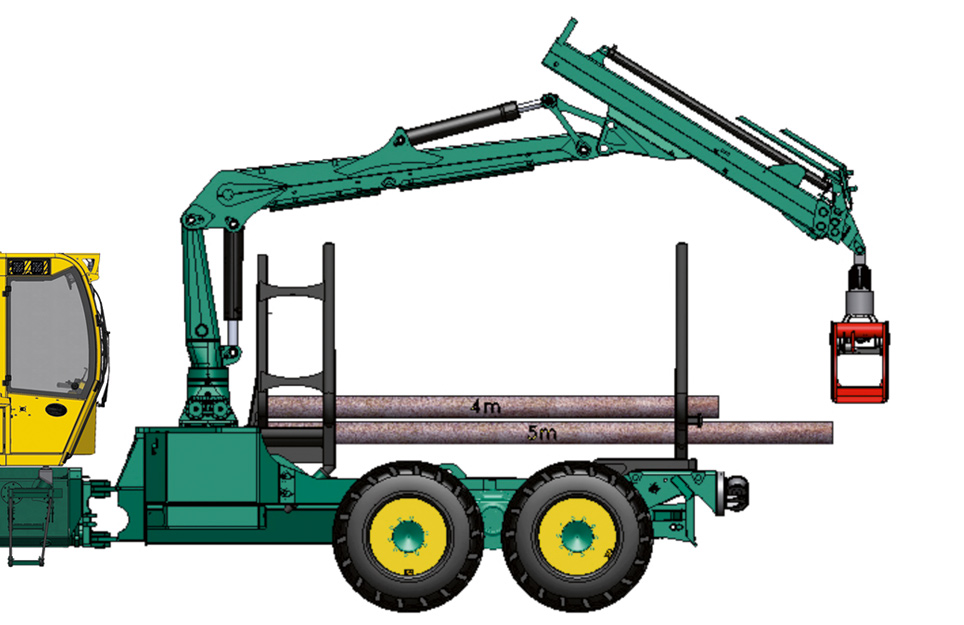 Last stanchion variable in "centre" position
Last stanchion variable in "long" position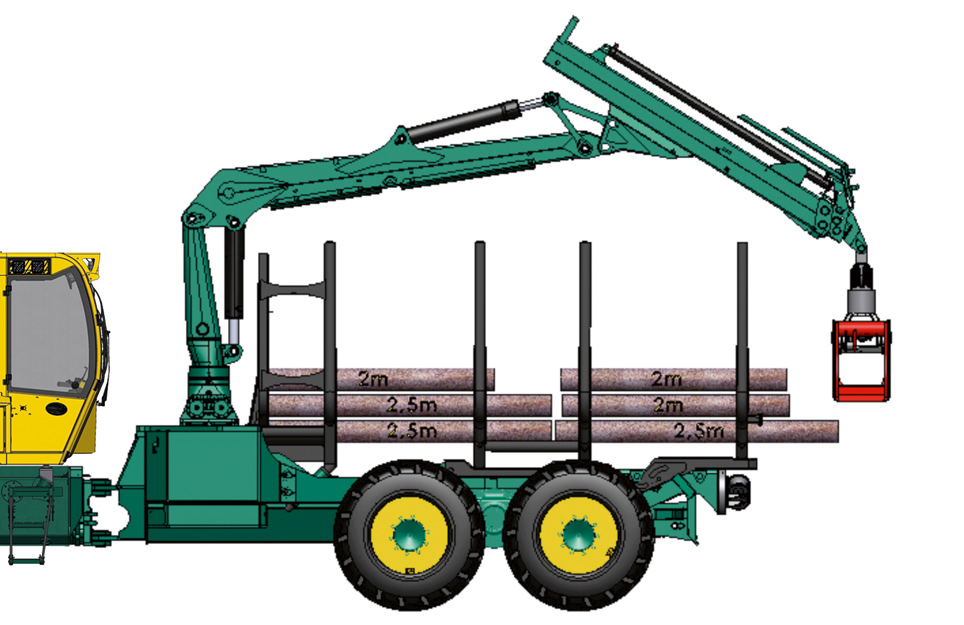 Quick-change twin stanchion for 2 x 2 or 2 x 2.5 m wood (not for 805F short version)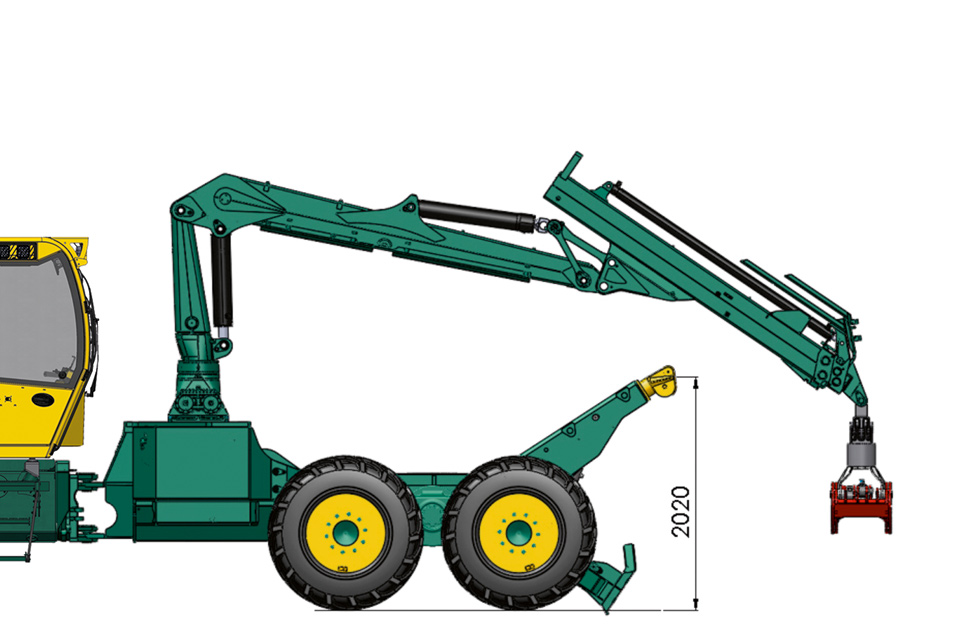 Height-adjustable pulleys up to 2 m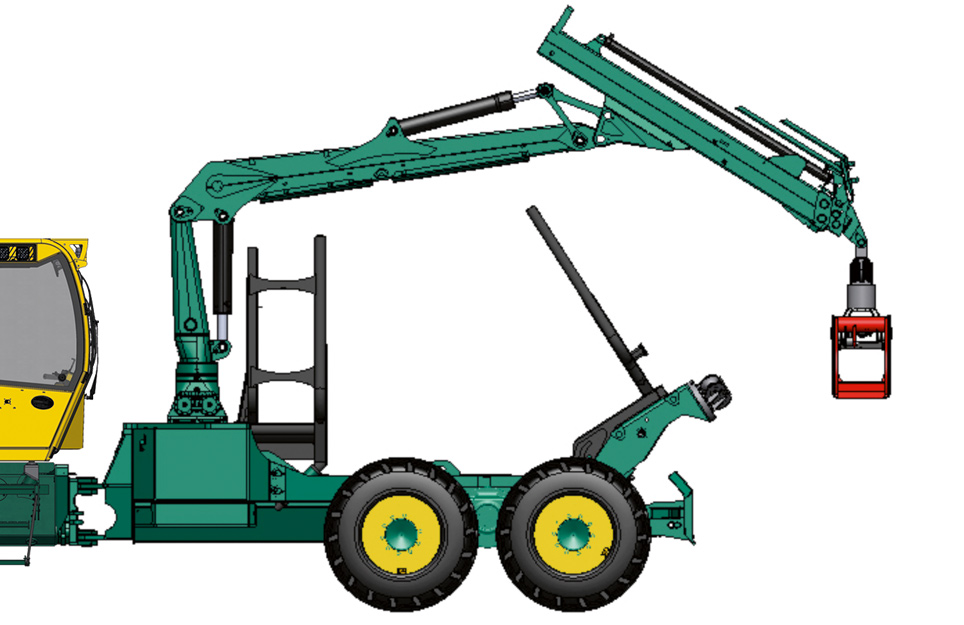 Rope forwarding possible without reconfiguring the stanchion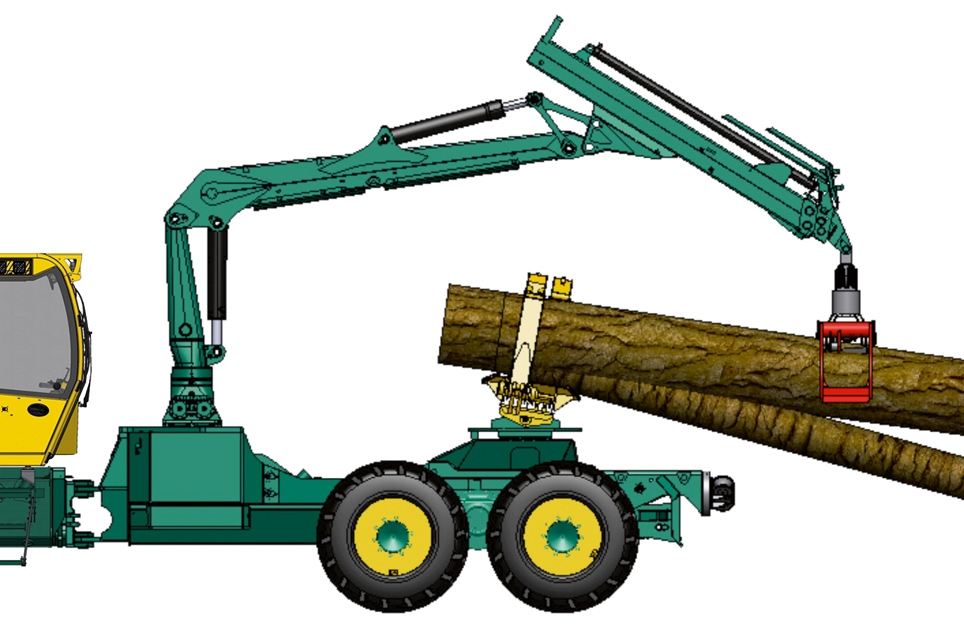 Log forwarding with quick-change clamping workbench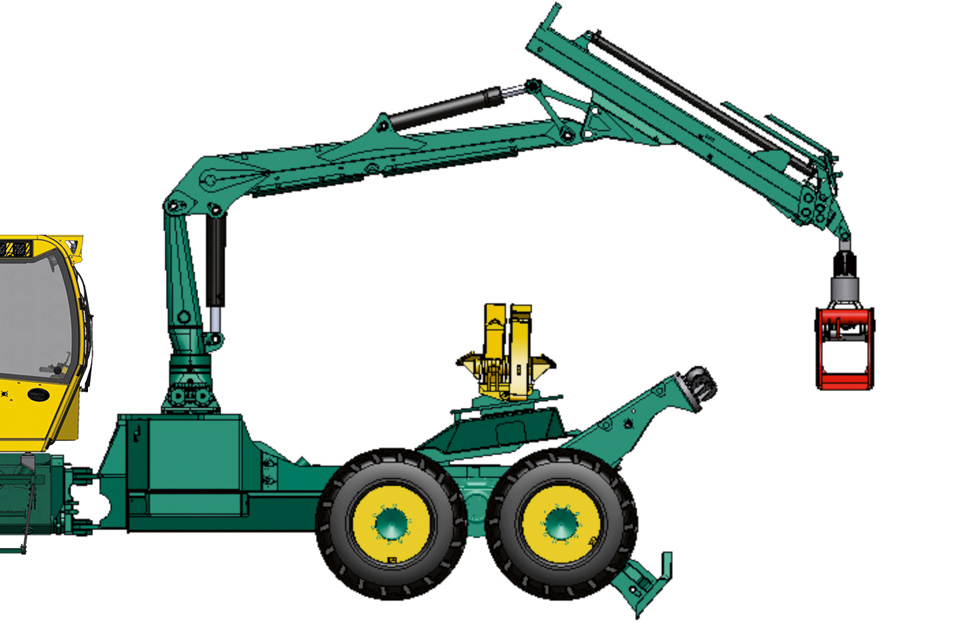 Rope forwarding possible without reconfiguring the clamping workbench